Tailored Custom Journals
Create the perfect journal to record your unique activity. From weightlifting to pickleball, bullet journaling to weight loss, we've got journals built for you.
Hey there, I'm Evan.
Welcome to my little journal workshop.
I've always been a journal person. But I've never been satisfied with the journals I've come across in stores or on the web. So I started creating my own. Then I started making them for other people, exactly how they wanted it.
The evolved result is this website. A custom journal website.
For you maybe it's a custom habit tracker website, or diary, or WOD book, or whatever you want it to be.
I created this website to help you create a journal that precisely fit your needs.
That might mean today we create a custom printed bullet journal, or a weightlifting log for firefighters, a personal training studio beginner manual, or any of the thousands of activities that benefit from a journal.
It definitely hasn't been easy, but I've tried to make the designer as flexible and robust as possible.
And when the website options don't work, I want you to reach out to me and we can figure out how to can make something that works perfectly for you. This might mean designing a new daily page template or re-writing our intro letter. It might mean changing heading sizes or adding new nutrition notes. It might even mean a phone call to dial it in…
My mission is to help you find, or create, the journal you've always been looking for…
Please explore the website, and if you need some help, reach out.
Evan, Founder and Lead Journal Guy
Featured Journals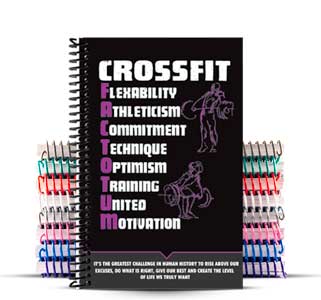 Perfect if you want to use my custom cover designer, add your daily page and do some light journal customization.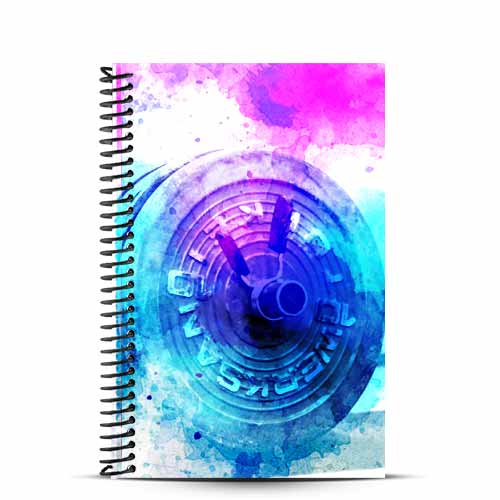 I design a lot of covers, some of them are so cool I offer them up here as standard options.
The best option for picking every single page from my entire library of activities. Be prepared for option overload…
---
My Wife And I Ordered Ours And So Far, We Absolutely Love Them. Quality Work! – Logan C
---
More Journal Types
I have a lot of standard custom journal types that are prebuilt to help certain activities. You might want to take a look at one of these as a starting point to see if it's close.
habit | weightlifting | fitness | crossfit | running | nutrition | climbing | yoga | wholesale | notebook | powerlifting | custom
A Visual guide Through my Journals
How Creating Your Journal Works
Choose Your Cover — Choose Your Daily Page — Choose Your Content
First you hit the big orange button to customize your custom journal cover, selecting the colors, clipart and text you want to include. You can upload any artwork that you need.
Then you pick your daily page, and with this you can choose whatever elements you want on it, then add an identical opposite page, or choose a complementary page that aligns with your other goals. For instance, you might choose a weightlifting page for the left side, then pair it with a detailed food diary on the right side. Up to you.
Finally you can pick any and all the extra content you might want, or none at all. Basic bundles are focused on goals, personal records and notes, but if you choose the build a journal, you can browse the entire library of content.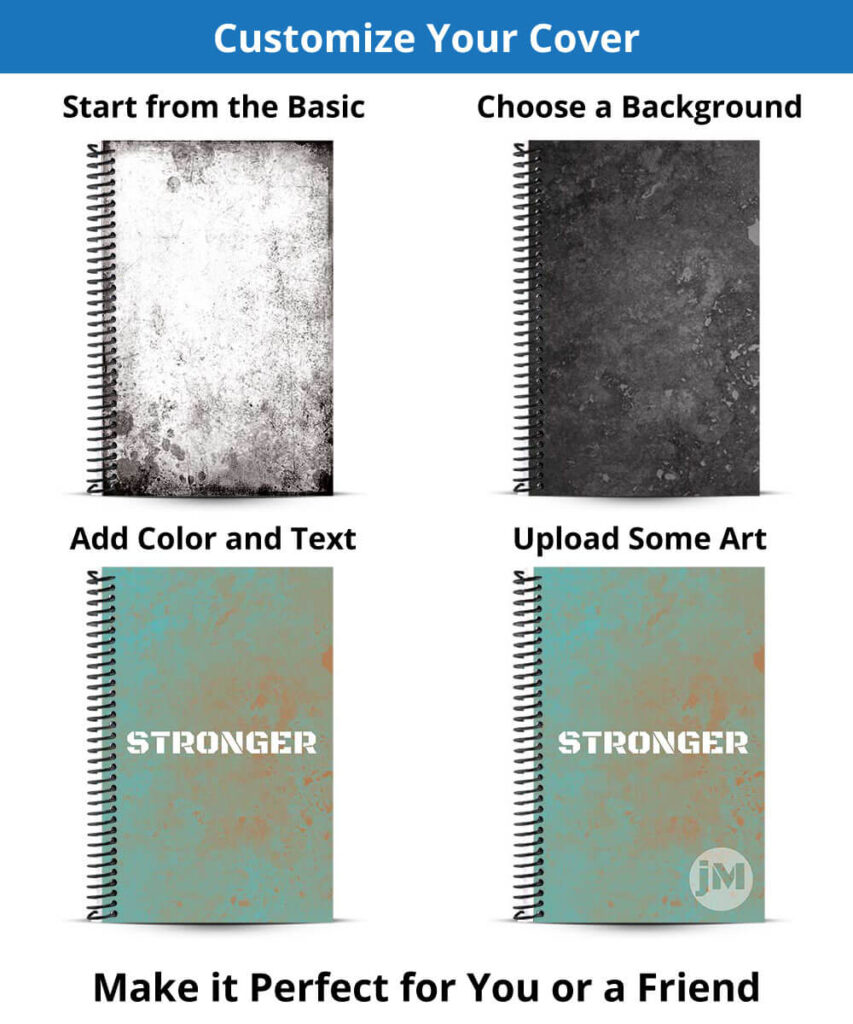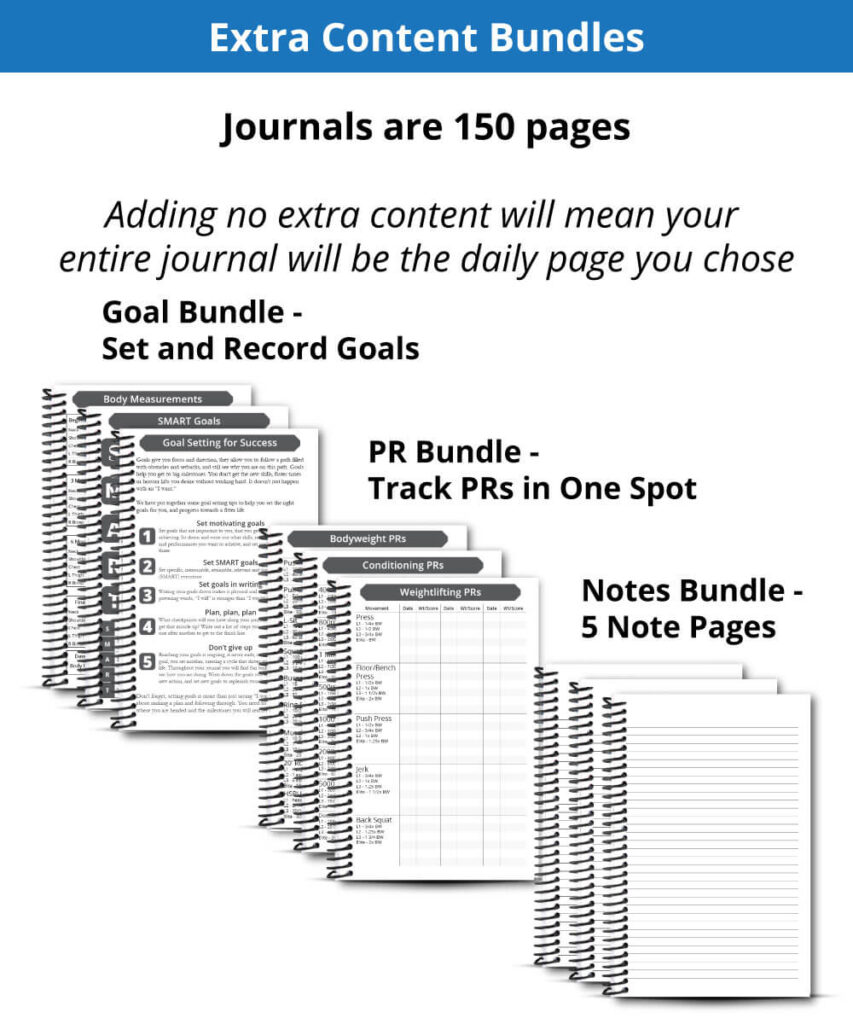 Wholesale Journals
Create the perfect journal to help your clients record their workouts and rock your brand!
If you made it to this website, we're probably in agreement that a journal is one of the most important tools in your client's toolbox. So how to make one that fits you?
The designer is a good starting spot, but we're probably going to need to dive in through email. I'd recommend picking everything you think you want, then I will take a look and we can adjust as necessary. I'll send you updated pdfs, drop in your logo, make sure the print quality is right, and check in with you constantly.
I don't print anything wholesale without email and design confirmation.
I've also got some discounts if you're ordering over 10.
---
Pick Or Design a Cover
Choose from dozens of covers or use my Custom Journal Cover Designer! Make it Perfect!
Choose Your Favorite Pages
Write the way you want to. Pick the perfect pages for your activity and design the best tool for you!
Track Your Goals
Writing your goals down makes your 42% more likely to complete them. Give yourself the edge!
Victor
Verified owner
These journals are awesome and highly customizable. Perfect for our gym.
1 week ago
john Maloney
Verified owner
just what we were looking for
1 week ago
Verified Buyer
Verified owner