Anatomy of an Awesome Journal
We have the best journals in the business, but how? To explain, we have to delve deep into the science of exercise and custom printing.
Let's break it down…
1. Personalized Cover
Your journal should look amazing, it should inspire you to work your butt off and be consistent. Not to mention it should protect those pages. Using a labor intensive print-on-demand process, we've created the ability for you to find or create the perfect journal for your journey.
We've flexed our artistic muscles and collaborated with local artists to create dozens of designer covers for you to choose from, but if you need something more special, you can drag, drop and arrange your own images and color style.
Your cover is also water and tear proof, allowing you to throw, stomp, smash and spill all over it.
2. Customized Content
At Journal Menu, we realize your exercise is different than the person next to you because you are different people, with different goals. You might be training to go to the CrossFit Games, or you might be trying to touch your toes.
We've created journals that feature specific content for different activities so that you can find the tool that is perfect for you.
A tool which is not correct will not be used, and we want you to gain the most utility from our journals.
3. Goals
Your goals are the foundation of your training progression. Whether it is to simply get into the gym everyday, qualify for the Boston Marathon, or lift 600lbs for 3 reps, the first and most important part of a goal is setting it. And the best way to set a goal is to write it down and look at it everyday.
Setting goals and good habits is our number one objective. We want you to be better, which means helping you choose how you will be better and sticking with it. We've created specific goal pages for different activities so you can use them as the brains of your fitness progression.
4. Workout Pages
The heart of a journal is it's workout pages, the pages you fill with your sweat, blood and skin.
Your workout page is specifically designed for your activity so that each time you fill it out, you are recording and reviewing the metrics that matter most to you. Whether that is water intake, distance run, sets, reps or notes, we've allocated specific space to help you track the ingredients for your success.
We also realize your writing style may vary, maybe you write big or maybe you can fit 1000 words in a 2 inch box. Regardless of your writing style we've built out options for you to choose the specific workout page which works best for you.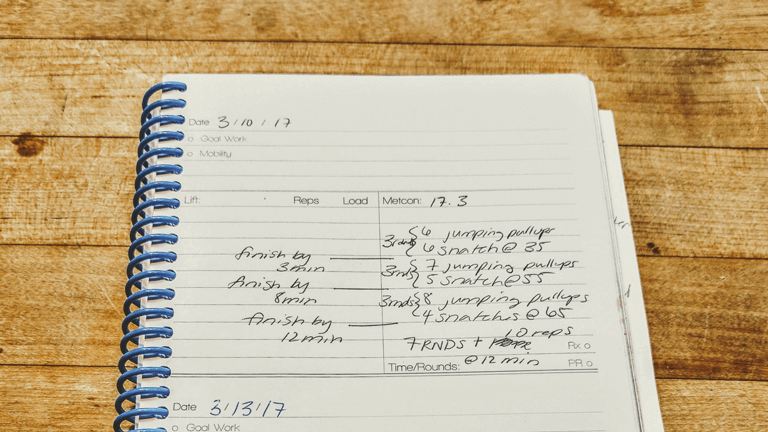 5. Benchmarks
Regardless of your sport, there are some workouts which will come up again and again. Whether it is a 4 x 800m run or Memorial Day Murph, we want you to have space to record and reflect on those workouts, because their repetition is the best way to gauge your fitness improvement.
Having the right benchmarks at hand allows you to test yourself against yourself, and if you've improved, to continue the course. If you've failed to improve, then you can delve into the workouts and notes between your last test and see if you can figure out what has changed and and the conditions for your better performance previously.
6. Tools and Information
We've compiled specialized tools to help you maximize your time in the gym or out on the road. From percentage charts for weightlifters to race planners for runners, our tools are designed to make your workouts more effective.
There's a lot of information out there about training, we've tried to curate it to the most important basics of mobility, nutrition and safety. We have more in depth guides but our standard journals only include the essentials to keep you focused on your training
Extras
Sometimes your journals needs a little upgrade
Let's break it down…

Journal Pocket
Sometimes you want to hold on to the things you come across, or maybe you have a PR page that is super important but not in your journal, just stick it in the pocket and win.
Extra Pages
Our standard journals are 150 pages long, but you can extend the length of them pretty easily with some extra pages. So if you think you're going to need a couple extra months before creating a new journal, add some extra pages and record your workouts for a little longer.