Rock Climbing Journal
$14.99
You live for the send. Optimize your training by using our custom Rock Climbing Journal. This journal is specifically geared to help you record your goals, practice and progress. Customize your cover to make it just for you.
Personalize the Cover
In Stock
Your Rock Climbing Journal
Your improvement starts with your mind. Not your shoe, not your chalk, not your app. Your mind.
We believe in the power of your Rock Climbing Journal to express and distill that mind. From the goal freshly inked onto a piece of paper to the circled PR written under a hard workout.
Why? Because by writing, your Rock Climbing Journal harnesses the power of your mind. It easily records successes, failures, goals and workouts. It is designed for those workouts. Your journal is beautiful, durable and made to help you get faster.
Your Rock Climbing Journal Workout Pages
We've designed the workout page of your Rock Climbing Journal to record the most important aspects of your workout. Practice and Problems reign supreme, but there's also plenty of space to record any cross-training.
The workout page includes room for recording the important metrics like water, sleep and nutrition.
By recording your workouts over time you are creating a valuable trove of data. This allows you to look back and see what you have completed and where you can improve.
It allows you to choose the right workouts for the right days and address problems before they become injuries.
Stay consistent and know yourself by recording your workouts every day!
Goal and Training Planning
Your next event is coming, or maybe you're just preparing for the fall season. Either way, let's get your head straight.
Without a training plan, you're kind of hoping that everything goes well. That's why we include a worksheet to help you get where you want to be.
With your Rock Climbing Journal training plan, you can train smartly towards your goals. When you don't hit the numbers you need, you've got a plan to help revise your expectations.
However, when you blow past where your training numbers you should start considering which stars to shoot for.
Simply by writing your goals down, you increase the chance you will achieve those goals by over 40!!
Nutrition in Your Rock Climbing Journal
Good nutrition is the foundation of athletic performance, weight loss and health.
We've included a nutrition worksheet in your Rock Climbing Journal so you can come up with the best list of foods for you
By fueling yourself properly you will have more energy, be able to work longer, and focus harder.
Mobility for Climbers
Mobility is the act of stretching effectively for exercise. Mobility is unbelievably important to keeping yourself healthy as you train your muscles to work harder.
When something starts hurting or aching, lots of times it's because your muscles have tightened up. That's why we've included a mobility chart in your Rock Climbing Journal to help you identify and solve aches and pains.
Being proactive about mobility is vital to training safely and staying away from injury.
Progress – Personal Record Tables
While it's important to record your workouts daily, it's also important to record those moments when hit a new personal record!
By recording these PR's in your Rock Climbing Journal you create a portfolio of your best performances which you can learn from. Then, by using our PR tracking tables you can go back to the specific date where you performed it.
Using that date, you can mine for clues and data from that week to help you get even more personal records.
It's beyond important to record your best times and keep them in one spot so you can see your progression at a glance 
Your Rock Climbing Journal Cover
Your cover of your Rock Climbing Journal should be beautiful. It should last, and it should represent you.
The Rock Climbing Journal cover is made of a highly durable synthetic paper. This allows us to print incredibly vivid and distinct designs based on your own artwork or ours.
We want your cover to represent you, your aesthetic, your aspirations and your dreams.
If there's anything you want to change about your cover let us know in the order notes. We'll do our best to make it the best, most perfect cover you can imagine.
If you want to pick every page, use the build a journal
Customization Options
Cover Personalization – Change the background and foreground color, add clipart, your own art, text and more.
Daily Page – Choose the perfect training page for you. Pages are tailored to specific activities and have different layouts available. 1x layouts have 1 entry per page, giving more writing space. 3x layouts have 3 entries per page, making the journal last longer
Contents – If you select "Only Daily Pages" the journal will only have the daily page you chose. If you select the "Standard journal" your journal will include pages for keeping track of goals, nutrition, personal records and activity specific information.
Build a Journal – The Build a journal lets you select any page from our library to perfectly tailor the journal to your goals. The total amount of pages is 150 and the amount of "daily pages" is dictated by the amount of "content" pages you select. Content pages are any pages from the Build-a-journal library.
Product Specifications
Inspirational quotes on the top of every daily page
Heavy duty plastic spiral bound journals that are the only true lay flat design available
Front & back protective custom printed cover is included for free
Highly durable synthetic cover paper to reduce tears and feel velvety smooth
Cover designs are always personalized and printed on demand
Product dimensions: 5.5 x 8.5 inches
Pages: 148 BW printed pages
Weight: 0.75 pounds
How Do I Order?
1.) Press the Personalize Your Cover button above & choose your cover options.
2.) Press the Choose Your Content button above & choose your page and content options.
3.) Once you're happy with how everything looks, press Add to Cart and then proceed to checkout to order!
When Will My Order Arrive?
Please allow us 3 business days to create your order & ensure everything is perfect before we ship it out (we call this "Production"). If you requested a digital proof, please check your email for that, we will not print or ship until it is approved. Once shipped, your journal will arrive in 1-10 business days depending on the shipping speed you choose at checkout.
Do You Donate to Charities?
Yes! We love giving back & supporting our local fitness gyms. A portion of your order will be donated to a local youth fitness organization. You can also apply for a prize package if you are hosting a fitness competition.
Do You Offer Bulk Discounts?
Yes! We offer discounted pricing for orders of at least 10 journals & planners. All journals & planners are eligible for this bulk discount (so you can mix & match to get discount):
| Quantity | Discount |
| --- | --- |
| 10 | 12.99/ea |
| 25 | 11.99/ea |
| 50 | 10.99/ea |
| 100 | 9.99/ea |
| 250 | 8.99/ea |
| 500 | 7.99/ea |
Bulk discounts are automatically applied at checkout (no discount codes needed). For orders over 50 journals, we can also customize the journal pages to better fit your needs.
Can I Return My Order?
Since each item is custom made to order, we do not offer refunds. However, rest assured if you are not satisfied with your order, our support team will go above & beyond help you resolve any order errors or issues. Please note if you want to make a change on an order after it's placed, it will take extra time to process and approve the changes So please double check all of your personalization options & shipping info before placing your order.
Please email us if you have any other questions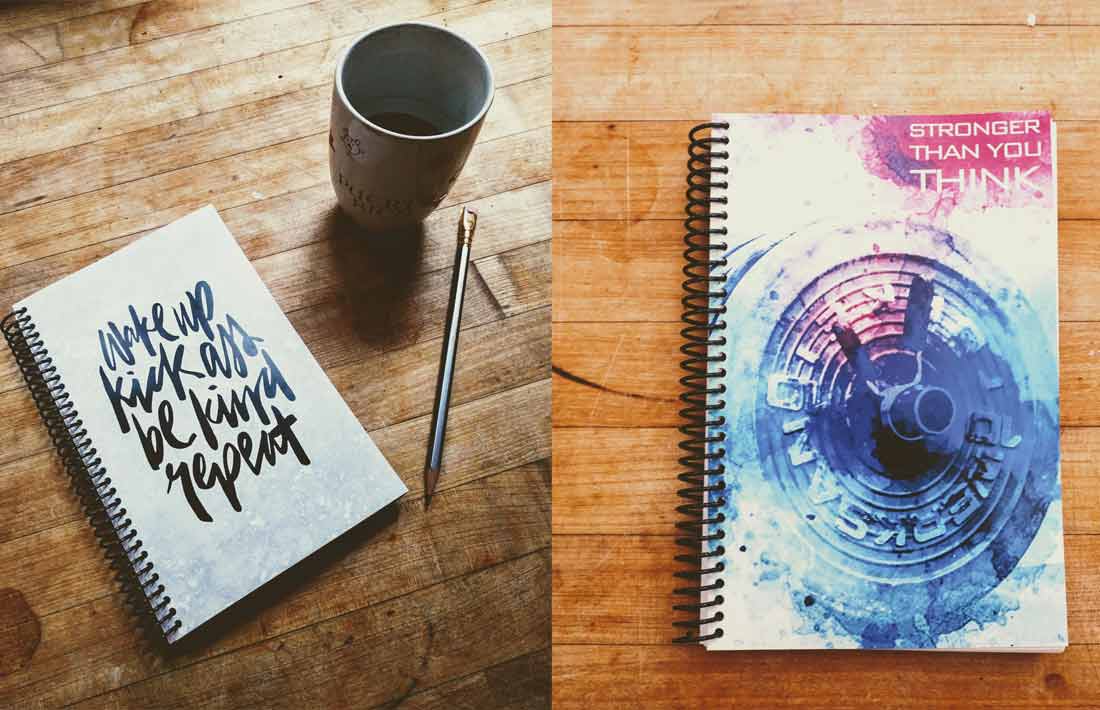 Personalize Your Cover
Your cover can be printed with your favorite colors, motivational quotes and clipart. Make your cover perfect for you and let it express your journey .
The Perfect Page for You
Our pages were designed to help you record your progress with your specific activity! With pages tailored to CrossFit, Weightlifting, Habits, Running and more...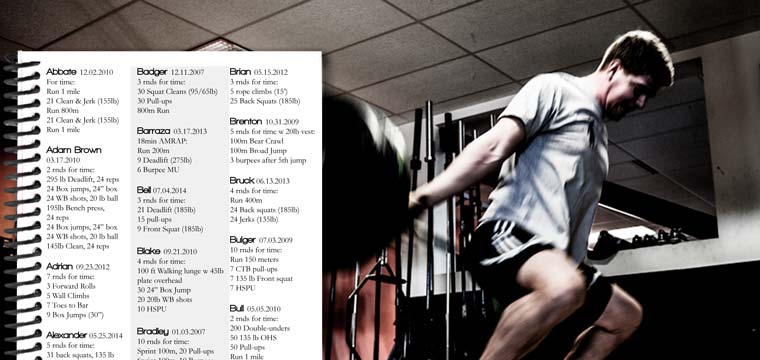 Content for Your Goals
You can choose from just daily pages for limitless daily tracking or select our standard journal to add some goal sheets, nutrition charts and personal record tables. If one of those doesn't work, choose our build a journal to customize your journal perfectly.
A Truly Unique Gift
You can't get more perfect than a journal customized for your friend or loved one's personal journey. Help enable their success!