We've got WOD Journals built for you…
Built for your metcons
Pick Your Pages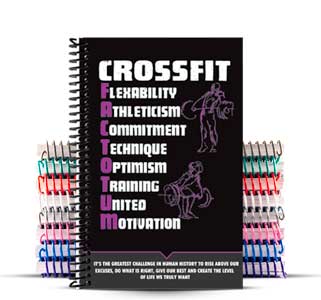 Empower Your Members
Read on to learn about our WOD Journals…
First, The Most Important Thing
Our number #1 goal is for you to get an amazing wod journal…
An amazing wod journal for your improvement, your fitness, metcons, weightlifting, intensity. If you have any questions, just ask!
If you're not sure about this priority of ours, check out our reviews
Design a Cover – Make it Yours
To design your cover you'll use our custom cover designer to pick out your colors, backgrounds, text and images. We let you do pretty much everything to your cover and we'll send a proof before printing if you want (almost everyone does).
Tailored WOD Pages
Our WOD Journals are tailored to your workouts and box experience. We've got space for conditioning, weightlifting sessions, PR tables and Hero workouts. We've designed this journal from the ground up to be perfect for your WODs.
Purchase – 100% Guarantee
We don't know what you've ordered until you purchase it, but we will double check everything looks good and reach out to you if you've requested a proof or if we notice something odd about your page choices.
Check Your Email for a Proof
After you've ordered we'll compile your cover and journal choices and send you a digital proof to approve. If all looks good then just give the go-ahead and print it out.
Print and Ship
Once you've approved your wod journal, we'll start printing and shipping. Usually it takes a couple business days to get your journal out the door but we try to move as fast as possible.
Meet Evan
Evan is the main craftsman and production head, and you'll probably chat with him for order details and revisions. Feel free to mention his addiction to chocolate chip cookies for a special discount.
Create Yours Today!