BEST. JOURNAL. EVER.
Mix and Match to Create Your Perfect Weightlifting Journal
Design your cover, pick your lifting page, add some goal and PR tables.
Let's make this journal work for you!
this is the weightlifting journal you've been looking for
With this weightlifting journal, you get to pick what you want.
Just want a bunch of pages to track your sets and reps? Sweet, we can do that.
Need to add a table to keep track of your macros and supplements? Boom, get it done.
Desire a few pages to keep track of your PRs in one spot? Let's go!
this is the your next weightlifting journal because you can build it the way you Need.
You get to:
design a cool cover (or pick one of ours).
layout your set/rep tables however you want.
pick what goes in the journal.
So what makes a Weightlifting journal?
When it comes down to it, a weightlifting journal is all about that daily page. You want it to help you record your workouts in a way that is easy and let's you learn from your past failures and successes.
If it takes too long to input your data, then that's a fail. Luckily, writing is easy.
It it distracts you with the latest tweet or instagram post, that's a fail. I'm looking at you cell phone…
If it's not easy to find what you've done in the past, that's a fail. You should have some way of organizing, by date is good, PR tables are better.
Our Daily Weightlifting Pages.
We know you need to lift lots of weight, We know you have different sets and rep schemes and notes that you need to take for every workout. That's why we've created tailored weightlifting workout pages to make sure your journal fits YOUR needs.
Here is a small sample of available pages, click on the thumbnail to preview. We've built these to concentrate on your weightlifting journey.
You can always request changes to a weightlifting page and we're working on creating a designer that lets you truly dial in your page just the way you like.
Standard Weightlifting Journal Daily Pages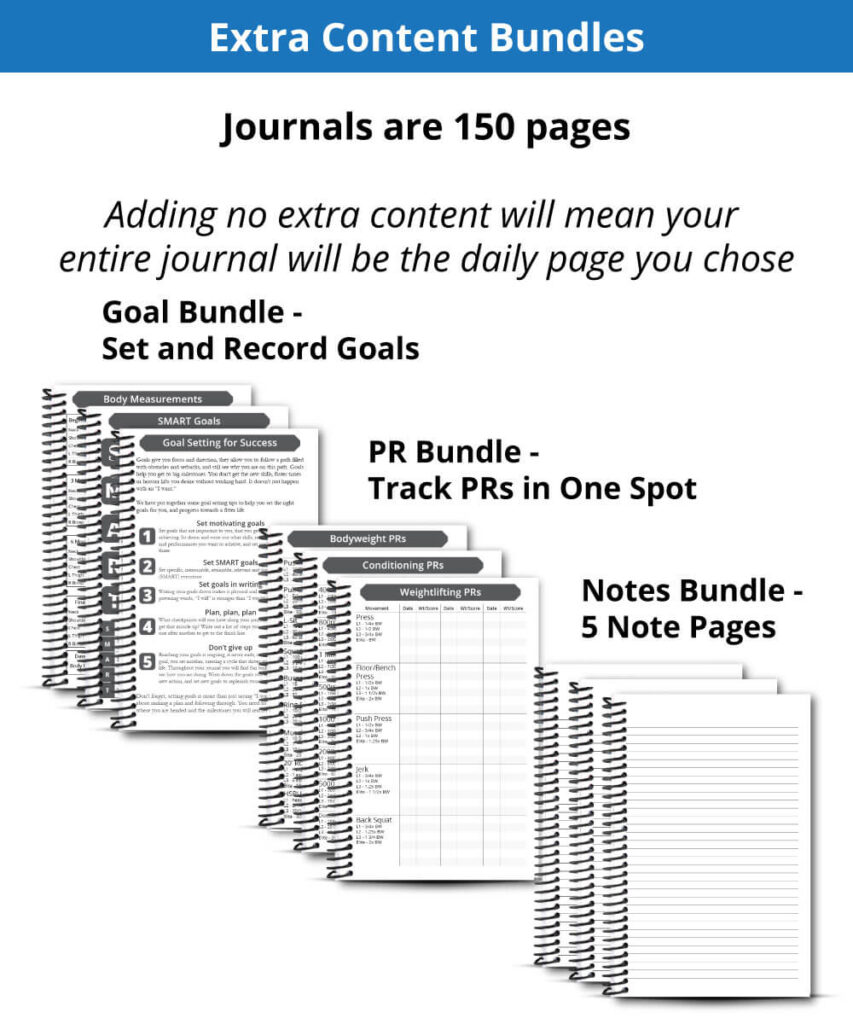 Choosing Your Weightlifting Journal content
We want you to be able to choose the content that matters to you. And if that means no content, all the better.
We've created content bundles of our most popular options that we think will do you the most good.
If you absolutely want to pick everything that goes in your journal, head over to the build a journal product and you can choose from the menus
Personalized Weightlifting Journal Covers
We think your weightlifting journal should embody who you are. Whether that is simple or complex, colorful or monochrome, textured or zenlike.
When you pick up your journal, we want it to inspire you to lift a little more, a little harder, a little smarter…
And we want your weightlifting journal to last. Our thick, laminated covers will protect those treasured workouts through gym bags and weight drops.
Now just like our preset workout templates, we've got a ton of weightlifting journal covers we've been inspired to make over the last decade, you can totally choose one of those.
But a big part of what we do is customization, so we have created, and are continually fine-tuning, a cover designer that lets you make the perfect journal. Imagine those phone case customizers, except for a journal that will actually do you some good 🙂
With the designer you'll be able to customize the colors, artwork, text, backgrounds, and anything else you might have every seen on a book cover.
Below is a brief walkthrough of the designer. Please note, we do update the designer more than we update the walkthrough but the options are the same, even if the interface is modified slightly.
If you have any questions or concerns about your cover, you can always email us to get a preview.
A little Praise
We pride ourselves on creating amazing journals,
A few of the Details
Your journal is 150 pages and printed on demand.
Wholesale Options for gyms, clubs, schools, Military units, etc.
Yes, we have bulk discounts, and wholesale orders get to do more customization. Just add what you want to the order notes and we'll send you a preview. Discounts will apply in the cart.
Product Specifications
Inspirational quotes on the top of every daily page
Heavy duty plastic spiral bound journals that are the only true lay flat design available
Front & back protective custom printed cover is included for free
Highly durable laminated cover paper to reduce tears and feel velvety smooth
Cover designs are always personalized and printed on demand
Product dimensions: 5.5 x 8.5 inches
Pages: 150 BW printed pages
Weight: 0.75 pounds
When Will My Order Arrive?
Please allow us 3-5 business days to create your order & ensure everything is perfect before we ship it out (we call this "Production"). If you requested a digital proof, please check your email for that, we will not print or ship until it is approved. Once shipped, your journal will arrive in 3-10 business days depending on the shipping speed you choose at checkout.
Do You Donate To Charities?
Yes! We love giving back & supporting our local fitness gyms. A portion of your order will be donated to a local youth fitness organization. You can also apply for a prize package if you are hosting a fitness competition.
Do You Offer Bulk Discounts?
Yes! We offer discounted pricing for orders of at least 10 journals & planners. All journals & planners are eligible for this bulk discount (so you can mix & match to get discount):
| Quantity | Discount |
| --- | --- |
| 10+ | $14.99/ea |
| 25+ | $13.99/ea |
| 50+ | $12.99/ea |
| 100+ | $11.99/ea |
Bulk discounts are automatically applied at checkout (no discount codes needed). For orders over 10 journals, we can also customize the journal pages to better fit your needs.
Can I Return My Order?
Since each weightlifting journal is custom made to order, we do not offer refunds. However, rest assured if you are not satisfied with your order, our support team will go above & beyond help you resolve any order errors or issues. Please note if you want to make a change on an order after it's placed, it will take extra time to process and approve the changes So please double check all of your personalization options & shipping info before placing your order.
MOST ORDERS WILL SHIP WITHIN 3 – 7 BUSINESS DAYS fROM DESIGN APPROVAL