Workout Journal
From: $14.99
You love the ability of paper to record your training. It is simple, it is flexible, and it is useful. This custom workout journal is the perfect tool for the athlete who wants a personalized cover and high-quality journal built for their workouts.
Personalize the Cover
In Stock
You love the ability of paper to record your training.
This 150pg journal is built to help you set your goals, record your training and review your progess.
If you haven't already, make sure to PICK or CREATE your cover.
This workout journal is simple and effective.
Goals – keep track of the start and finish dates of your goals
Workouts – strength and conditioning tables along with nutrition, water, energy, goals, mobility
Personal Records – Know your best performances and see your progression
Your workout journal is 150 pages long and sustainably printed just for you.
If you want to pick every page, use the Build a Journal
It's all about setting goals, recording your workouts and tracking your progress.
The workout pages help you keep track of and improve sleep and nutrition habits. The PR pages keep all your best results in one spot. The goals enable you to set the trajectory of your progression.
Using a Workout Journal
The most important part of a journal is the actual act of writing.
By writing your workout down you create a tactile link to your brain. By editing what you've done to a digestible format you internally critique your own efforts and learn from yourself.
Start by writing down your workout before you perform it.
This lets you strategize how to execute the workout at your highest level. It also lets you leverage the power of visualization to optimize your performance.
When you record your score as the workout progresses, you keep yourself present with your game plan.
Then, when you have successfully finished, you are able to quickly and efficiently take specific notes on how the workout went.
Finally, when you use your workout journal to review your prior performances, you can apply those lessons to your future plans. This goes beyond nearly goalkeeping. Your journal lets you notice trends in your workouts, allowing you to apply those lessons to your future efforts.
The constant goal setting, workout recording, review and revise nature of a journal helps you crush your progression and push your performance.
Custom Designed Workout Pages
With this workout journal, we've created pages that are extremely functional for athletes following any type of training program. To do this, we take our own background in training, along with years of experience creating thousands of journals, to tailor pages to athletes who are pushing themselves to reach their best selves.
Special Journal Covers
The outer skin of a workout journal is its cover. We've chosen hard to source and highly durable polymer paper covers that don't rip and don't soak up water. We use a polymer paper because we want to print your cover to match your aesthetic.
We suggest you put your name or top and goals on the cover of your journal to help inspire you to succeed.
Journal Extras
We know sometimes you need a little more. Maybe a few more pages, maybe a pocket to hold your papers in, or maybe a bookmark to let you easily flip to your workout or PR section. That's why we let you add any of those things to your workout journal.
The Bookmark let's you record your goals and keep them with your workouts as you move through the journal.
The Pocket lets you keep those random loose papers we all seem to have.
The extra pages give you 25-75 more workout pages, and depending on what workout page layout you chose, from 25-225 more workout entries.
Customization Options
Cover Personalization – Change the background and foreground color, add clipart, your own art, text and more.
Daily Page – Choose the perfect training page for you. Pages are tailored to specific activities and have different layouts available. 1x layouts have 1 entry per page, giving more writing space. 3x layouts have 3 entries per page, making the journal last longer
Contents – If you select "Only Daily Pages" the journal will only have the daily page you chose. If you select the "Standard journal" your journal will include pages for keeping track of goals, nutrition, personal records and activity specific information.
Build a Journal – The Build a journal lets you select any page from our library to perfectly tailor the journal to your goals. The total amount of pages is 150 and the amount of "daily pages" is dictated by the amount of "content" pages you select. Content pages are any pages from the Build-a-journal library.
Product Specifications
Inspirational quotes on the top of every daily page
Heavy duty plastic spiral bound journals that are the only true lay flat design available
Front & back protective custom printed cover is included for free
Highly durable synthetic cover paper to reduce tears and feel velvety smooth
Cover designs are always personalized and printed on demand
Product dimensions: 5.5 x 8.5 inches
Pages: 148 BW printed pages
Weight: 0.75 pounds
How Do I Order?
1.) Press the Personalize Your Cover button above & choose your cover options.
2.) Press the Choose Your Content button above & choose your page and content options.
3.) Once you're happy with how everything looks, press Add to Cart and then proceed to checkout to order!
When Will My Order Arrive?
Please allow us 3 business days to create your order & ensure everything is perfect before we ship it out (we call this "Production"). If you requested a digital proof, please check your email for that, we will not print or ship until it is approved. Once shipped, your journal will arrive in 1-10 business days depending on the shipping speed you choose at checkout.
Do You Donate to Charities?
Yes! We love giving back & supporting our local fitness gyms. A portion of your order will be donated to a local youth fitness organization. You can also apply for a prize package if you are hosting a fitness competition.
Do You Offer Bulk Discounts?
Yes! We offer discounted pricing for orders of at least 10 journals & planners. All journals & planners are eligible for this bulk discount (so you can mix & match to get discount):
| Quantity | Discount |
| --- | --- |
| 10 | 12.99/ea |
| 25 | 11.99/ea |
| 50 | 10.99/ea |
| 100 | 9.99/ea |
| 250 | 8.99/ea |
| 500 | 7.99/ea |
Bulk discounts are automatically applied at checkout (no discount codes needed). For orders over 50 journals, we can also customize the journal pages to better fit your needs.
Can I Return My Order?
Since each item is custom made to order, we do not offer refunds. However, rest assured if you are not satisfied with your order, our support team will go above & beyond help you resolve any order errors or issues. Please note if you want to make a change on an order after it's placed, it will take extra time to process and approve the changes So please double check all of your personalization options & shipping info before placing your order.
Please email us if you have any other questions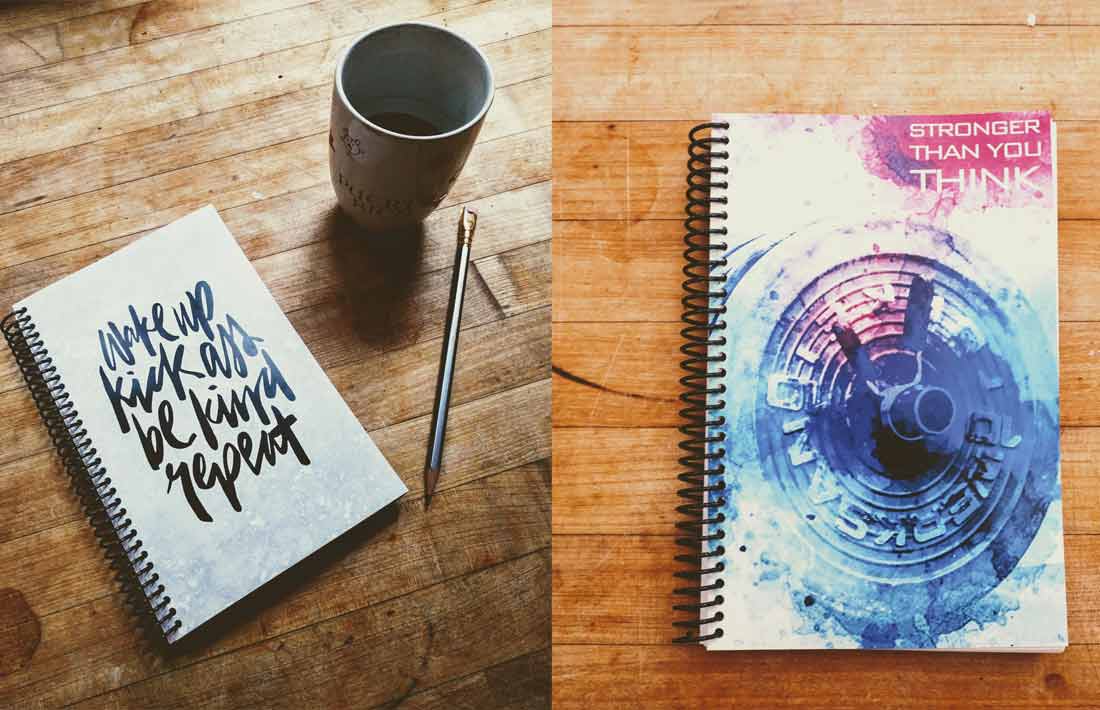 Personalize Your Cover
Your cover can be printed with your favorite colors, motivational quotes and clipart. Make your cover perfect for you and let it express your journey .
The Perfect Page for You
Our pages were designed to help you record your progress with your specific activity! With pages tailored to CrossFit, Weightlifting, Habits, Running and more...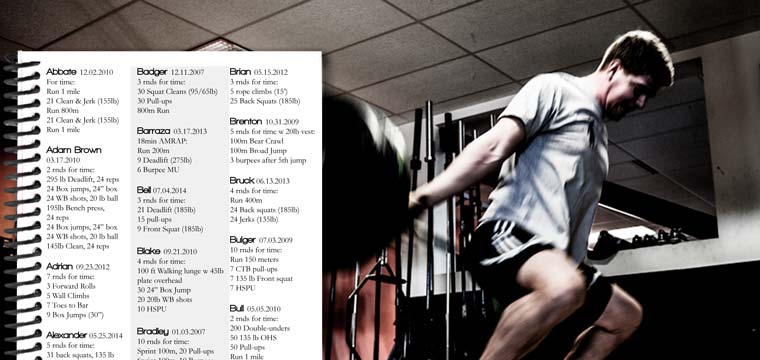 Content for Your Goals
You can choose from just daily pages for limitless daily tracking or select our standard journal to add some goal sheets, nutrition charts and personal record tables. If one of those doesn't work, choose our build a journal to customize your journal perfectly.
A Truly Unique Gift
You can't get more perfect than a journal customized for your friend or loved one's personal journey. Help enable their success!